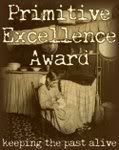 This is such a honor! Thank you to my sweet friend Joleen of The Primitive Bucket, who has nominated me for this award! Look at her Blog! She does such a wonderful job of keeping it up! With 2 young children, hubby and keeping up with her blog, she still finds time to run an ebay group and make her wonderful crafts! If you like pinwheels, she is the one to get them from!

Now then, to uphold my end of receiving the award, I must pick 7 friends/blogs to nominate. Plus, the following:

*Put the logo on your blog.

*Add a link to the person who awarded you.

*Nominate at least seven other blogs.

*Add links to those blogs on your blog.

*Leave a message for your nominee on their blog.

Ok, this is hard! Here are my nominees:

*Kira - Bushel & Peck - Kira is a lovely person that I met by accident. LOL I had goofed up one of my listings and she was so kind as to email me and let me know! She makes beautiful items from the Heart of the Scottish Highlands!

*Stephanie - The Primitive Trunk - Stephanie is a very busy person and has some wonderful items! I received some of her "goodies" through gift exchanges. Check out her things I know you will be happy with her handiworks!

*Chris - The Antique Pallet - Chris is such a fun person! If only I could paint like she does! She always has something prim and beautifully painted! You won't be sorry with what she has to offer!

*Mary - Sew Dear To Me - Mary does wonderful altered art, dolls, and many other things. You must see her things!

*Linda - Grama's Gourds and Primitives - Linda is another very talented painter. I always try to "pop in" on her blog whenever I have a minute or two.

*Lorrie - Frog Holler Creations - Lorrie makes wonderful hang tags that are her own creations. A very talented lady!

*Mary - Polka Dot Hill - Mary paints fabulous paintings, collages, and needle felting! Wow what talent! I love her paintings.

Please go to each of their blogs and see what they have to offer! I love my talented friends!